Hot Tub Covers
The world's leading spa cover supplier.
Core offers the greatest selection of spa covers. Their ability to manufacture covers for any size and style of spa ensures the perfect fit. No cover leaves our facility without undergoing stringent quality assurance and all dealers can order and track their covers through the online ordering system. Core offers you peace of mind in knowing that when your cover is delivered to you, you will have received the best. For season after season of enjoyment...
Please click on either the Spa Ease Traditional cover or a Vacuseal Cover and Lifter system as options. You will be redirected to the ordering page with various size options, color options, and added cover enhancments options.  Notice **** Pricing change on Spa Ease Traditional Hard Covers NOW STARTING AT $499.00.

Made with the finest materials and craftsmanship
Every Core cover is constructed with the best available materials; including, marine-grade vinyl that is treated with mildew and UV inhibitors, high-efficiency EPS foam to provide a stronger and more energ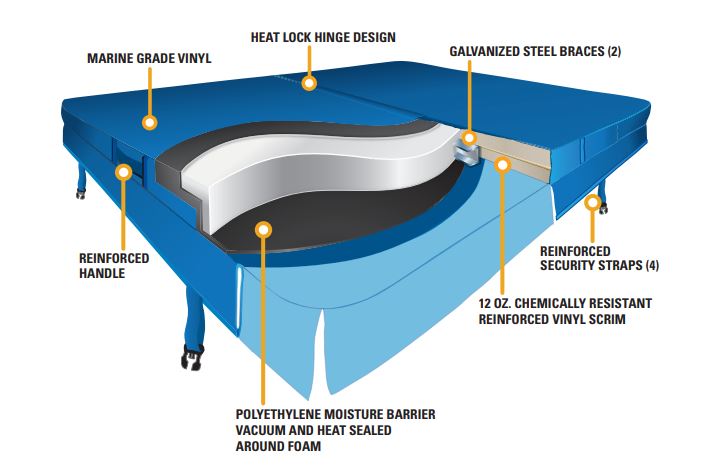 y-efficient cover, and scientifically formulated plastic that is far more resistant to water vapor transmission than ordinary plastic. The most advanced machines are used to cut all materials for perfect adherence to specifications, and each cover is constructed with double stitching and 40-point reinforcement. During the entire process, every cover is supervised by a highly trained Core craftsman. All Core covers include a limited 3-year warranty.
Marine-grade vinyl colors
Our premium 28 oz. marine-grade vinyl is treated with mildew and UV inhibitors and is available in 18 designer colors, which provides lasting beauty to match nearly any décor.
  
WeatherShield fabric Colors
Our WeatherShirld fabric is a 100% solution-dyed polyester that's lightweight, extremely durable, environmentally superior, and does not absorb water.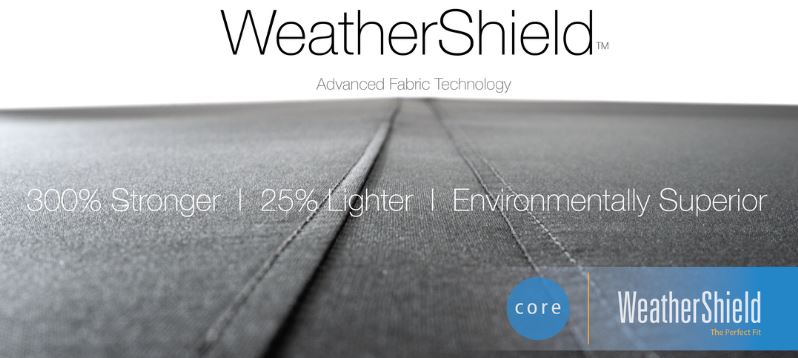 Reduces overall cover weight by 25%
3x stronger than traditional vinyl
Provides superior tear and abrasion resistance
Made with recyclable materials so it is environmentally superior.
Environmentally-friendly and energy efficient
Core's covers are made with 100% recyclable materials to help the earth and your wallet. Every Core Cover comes with a specially designed end pillow that ensures a perfect seal, which is critical to long-term energy savings.Core's Vapor Lock Seal plastic is four times more effective in inhibiting moisture absorption than ordinary seals. Also, the design and special insulation of our Heat Seal Gasket retain heat and moisture, regardless of the outside temperature.
Safety and security that you can count on.
Core offers a number of options for locking hardware. The locking hardware is standard with all Core covers, including all the mounting hardware to assure your cover is capable of being installed safely. All covers are also constructed with tie-down straps and fasteners that are triple reinforced.Every Core cover meets or exceeds all safety requirements and carries the ASTM Certificate of Product Compliance.